| | |
| --- | --- |
| Ben's LEGO Millennium Falcon | |
| | Aug. 1-7, 1999 |

Introduction
It's done. After about 200 hours of work and at least four iterations. It's my hope that people will enjoy these pictures and find inspiration for their own models.
My quest for a LEGO Millennium Falcon started in 1977 after seeing Star Wars (episode 4) for the first time. My first model was a rather cumbersome affair made almost entirely of red bricks. A couple of years ago, I built another model of the Millennium Falcon with my life long collection of LEGO, but I still lacked the volume of pieces required to do it right. Then, after LEGO released episode 4-6 sets, I was inspired again. I've finally realized a dream that started over twenty years earlier.
Pictures: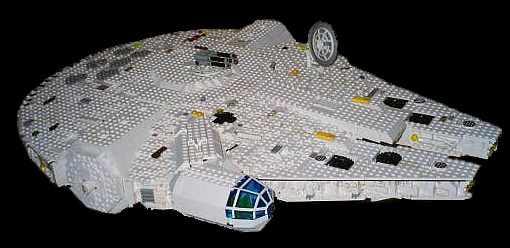 ---
Summary:
At 85 studs long and 15 pounds, this is the largest Lego models I've ever built. Here is a list of the features included in the model:
Upper and lower quad laser cannons, powered by a 9V LEGO micromotor, linked to two gunner chairs. The power is switched by a white brick slightly protruding through the hull of the ship.

One light laser cannon that extends from the lower fuselage as seen in Empire Strikes Back.

Forward Concussion missile launcher. Each missile is made of two 1x1 round bricks, one 1x1 cone brick stacked on a five stud long antenna for stability. The magazine holds five missiles. Missiles are launched by cocking a firing pin by rotating a small knob protruding from the far side of the fuselage. The firing pin locks in position. A spring loaded slide mechanism loads one missile at a time into the firing chamber. A push-button, mechanical release fires the missile. Range is about five feet. The firing pin is powered by a LEGO bungee cord from on of the bungee racer sets. The minifig above is shown loading a missile into the magazine.

Working 9V headlights

LEGO 9V sound element that makes laser cannon sounds

Pneumatically actuated loading ramp.

Pneumatically actuated landing gear that fully recess into the hull. Panels can be manually closed to cover the landing gear after they have been raised.

Pneumatic pumping/reservoir system. A Pneumatic pump is hidden in the rear of the hull and rotates up for use. Two blue air tanks hold enough air to actuate the landing gear through one raise/lower cycle and the loading ramp multiple times.

Access hatches that rotate open to access each of the interior rooms and the hallway to the cockpit. The cover for the cockpit hallway is built along the lines of a 3-4-5 right triangle to help with stability. (Side note: the actual hallway is built at 45 degrees)

All controls for accessing and controlling these features are integrated smoothly into the fuselage.

The round side walls of the hull are made by stacking 1x2 bricks and flexing them slightly to achieve a curved surface. This works very well for the engine portion. some 1x2 plates and tiles were used as well.

Two smuggling bins built into the floor with room for four minifigs and one R2 unit.

Room for four in the fully detailed cockpit.

A holo-chess table built on the top half of a 4x4 turntable with blue and white 1x1 tiles.

Upper and Lower gunner chairs. A tunnel with a ladder connects the two.

Access panel in the floor of the forward hold for maintenance. Assorted hatches in the walls provide access to other equipment.

Upper hatch on the left side docking arm. This is where Lando pulls in Luke at the end of Empire strikes back
Detailed side walls for that mechanical blocky look.
Semi-detailed interior chambers. More to come.
A recessed medical bunk. This is wear Luke gets first aid after getting rescued at Bespin.
Front cargo holds with mechanical loading arms.
Two working escape pods. Each pod has room for three minifigs. The pods are fired by pulling a release pin which ejects it from the hull.
Detailed environmental control room.
An electronics service bay. Where Han and Liea flirt with each other.
---
Some notes on scale:
My falcon is based on having a cockpit section 8 studs wide and scaling the rest of the ship to match. Having done this, my model ended up 85 studs long. Is this to scale. Allow me to submit the following information based on the LEGO Y-wing and X-wing sets LEGO released in 1999.

| | | | |
| --- | --- | --- | --- |
| | Length of model | Length of 'actual' ship [1] | Studs/meter ratio |
| Y-wing | 46 studs long | 16 meters | 2.875 |
| X-wing | 34 studs long | 12 meter | 2.833 |
Now, given that the Millennium Falcon is 27.5 meters long[1], multiplied by 2.85 gives Lego Millennium Falcon a length of 78.5 studs, or 24.7 inches.
The Millennium Falcon I built was scaled based on a cockpit that is 8 studs wide. Which drove the length of the model out to 85 studs(26.8") in length or 3.09 studs/meter. While 8% larger, I consider that within acceptable limits. Especially since there is much conjecture that in actuality, the Millennium Falcon is much larger than 27.5 meters based on all the interior shots of what is shown inside. Some people even say as much as 40% larger. And since my model is detailed in the inside with rooms, hallways etc, I justify the extra 10%.

---
Thanks and Links
Thanks go out to all those that provided encouragement.
The following web sites were very useful:
Derek's LEGO Millennium Falcon, one of my first inspirations.

dö´s LEGO-Millenium Falcon has great detailing, a super cool engine detail made out of trans-blue bricks and a very nifty way of pulling the model apart to access the interior.

Tim Ketzer has a great model of the Millennium Falcon made with more traditional materials.

And many others whose links are no longer active.
---
Back